Some of these I've already posted on Den of Angels...
Oh, and for those who replied to my Car-Buying Post: THANKS! I ended up buying the Certified Pre-Owned car. I'm not 100% sure I did the right thing, but then I NEVER am! But I'm relieved I have a car, even though I now need to pay for it!!! (waaaah!!! no new dollies for me!!!) ;__;
On the other hand--good thing I bought one of the Tinybear's Brackens (boy version of Moona) before I knew about my car problems!!! Heheheh. >:-D
Finally... I'm going to post on this...
Thanksgiving Day was lovely--turkey with family and friends and newly met but friendly people. It was nice. I could actually have eaten more turkey as left-overs, but had to run off to the Dolpa...
Spent Friday at a small pre-Dolpa get-together. Very fun and relaxing... and a good way to get ready for the big day!
That night I made a little backdrop for my Customization Contest Entry. Next day was the start of the Dolpa... People started early if they wanted to do the FCS. Most everyone hung out in the lobby of the L.A. Airport Hilton until the doors opened downstairs, where all the Dolpa events would be, at 3:30. Those of us who hadn't registered earlier, registered at the door, then... showing our Invitation Print-outs and Driver's License for proof. It was a pain juggling dolls and stuff while pulling out forms and IDs! Got a sticky tag for writing our name on, a button/badge with a symbol showing whether we were a Guest or, more importantly, not (I think Guests weren't allowed to do certain things--not sure which! We got a little packet with a little booklet showing times and events and the floor layout for Sat. and Sun., and tickets for putting in for a One-Off, and our Lottery Ticket Number.
I'm so fortunate to have people who will save a seat at their table for me (Thank you,
wolfemeister
and
doll_paparazzi
--you are so nice to me!) ... Good thing because I'm freaking out just trying to set up my kids for the Customization Contest... I'll post on that later.
Then it's time to rush about got the hour before the meal--check out the Customization Contest and choose ONE to vote for (Popular Vote Award--there are others), and to go over to the One-Offs to take photos and scope them out before the end of the period for putting in on those.
People who had their dolls were busy settling in and setting up their dolls--who made fantastic center-pieces.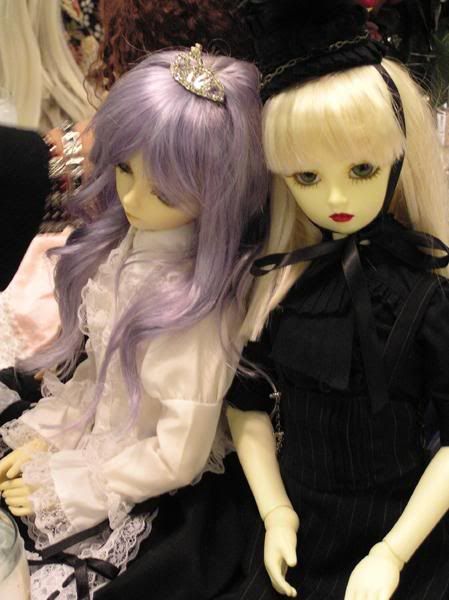 PamSD's Ruby, (I think)... and her gorgeous self-made dress--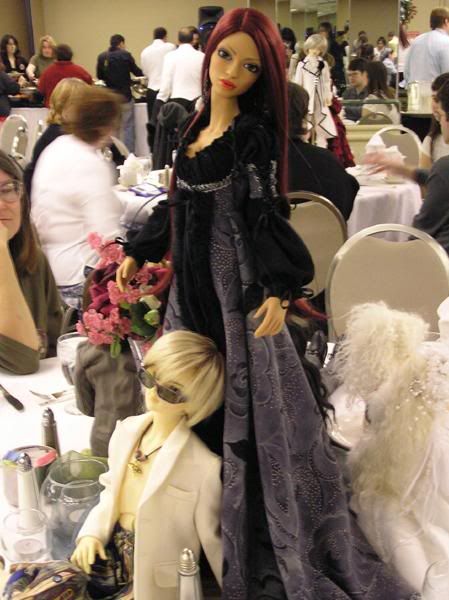 clochetterd
's lovelies, she made the outfits, too!
Wearing Brighnasa's very cool jewelry... Three gorgeous boys!!!--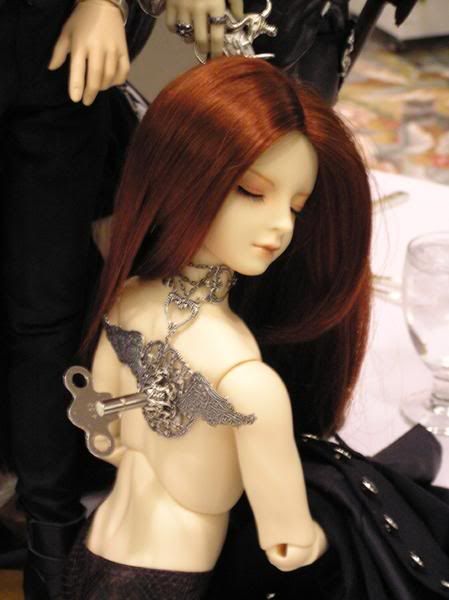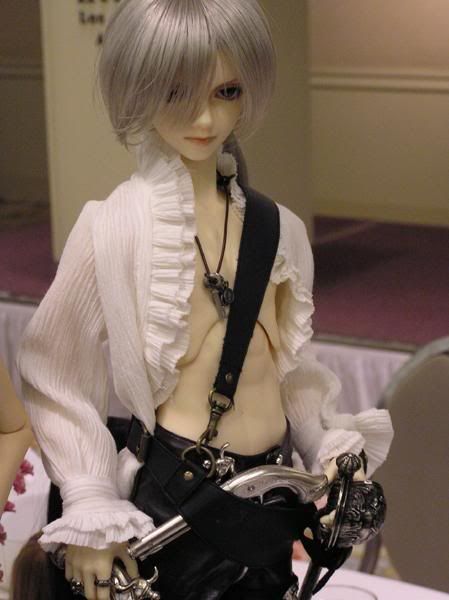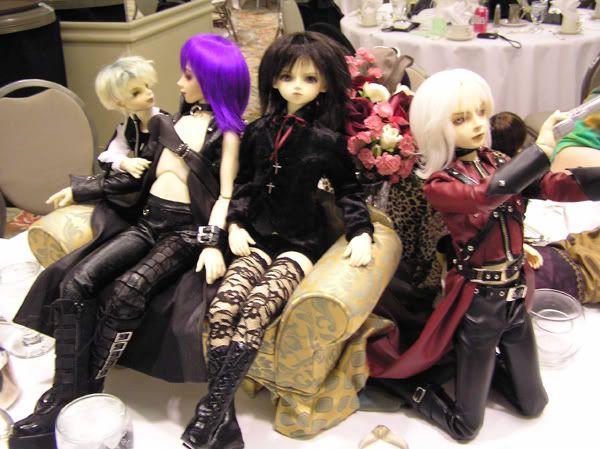 wolfemeister
's boy, kicking back with his guitar...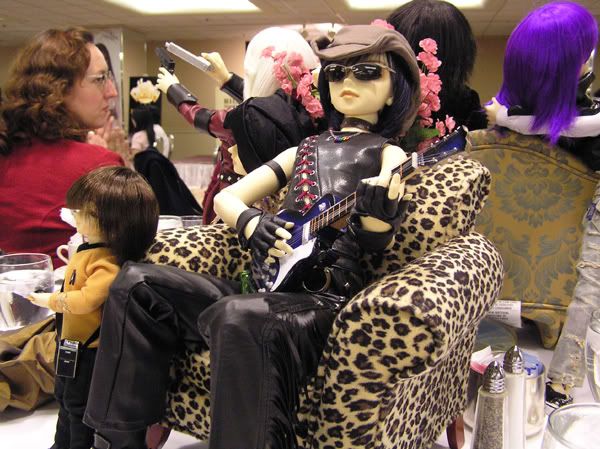 wolfemeister
was guessing there were probably around 300 people... It looked like a very full room!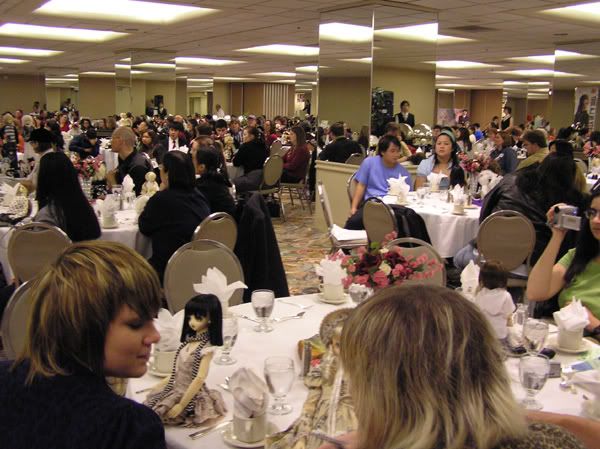 There was a little stage set up for Mr. Shigeta--he is such a delightful character! And Mikey, his daughter, who was translating for him...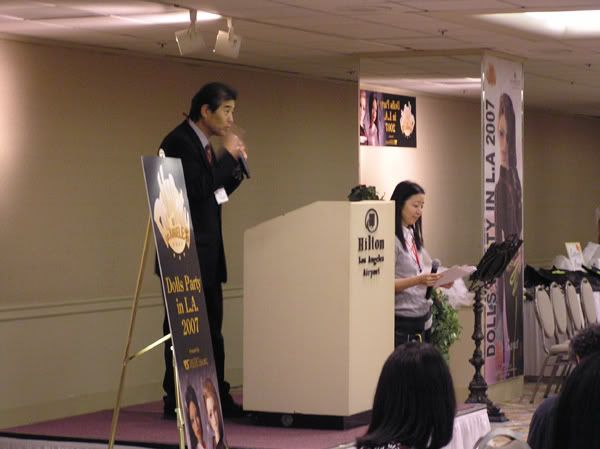 Podium--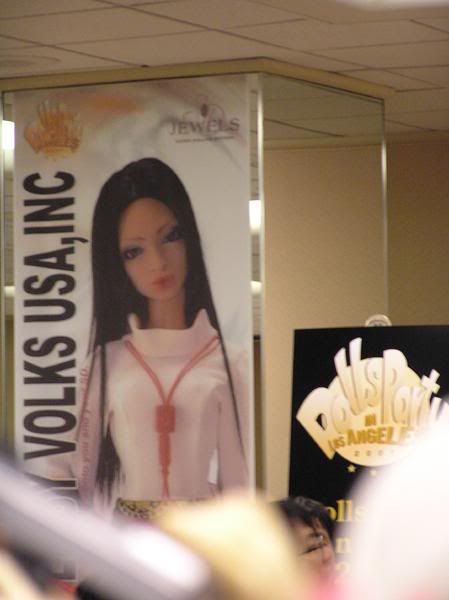 Food buffet was set up on either side of the tables--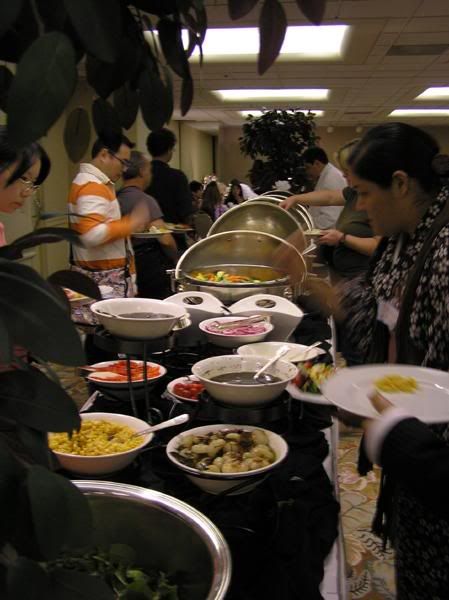 There was salad and veggies and salmon, chicken and beef and mashed potatoes. And lovely little desserts. A very nice spread!
While we ate there were three or four Welcoming ceremonies held up by the stage area with Mr. Shigeta and Mikey officiating. Lots of playing of the Celebrate our Love song... Although we tried to be quiet and respectful, it was a bit tough while eating! But the ceremonies were still moving, even from a distance while we were stuffing our mouths.
The winners of the Customization Contest--with theme of "Hollywood/Movies" were announced. Several winners got Sei-Tenshi!!! All the entrants were great!!!
Winners of the One-Offs were chosen. Loved how Mr. Shigeta wanted to read the names correctly but then turned to someone else to announce them properly. He's a trooper!
They announced the high bid for the Charity Auction, saying that they would match the bid--and that it would go to "Make a Wish" because of the association with Sarah. That was lovely--both the bidder and Volks matching the amount! So wonderful. And a gorgeous doll on-top of it.
Then, after I had eaten WAY too much... Lottery time! LOTs of free prizes. They reminded us all that we were fortunate since they give out the same amount at Japan Dolpas with thousands of people attending, rather than our little 300... And Volks is amazingly generous! I have to love them for creating lovely dolls--starting the whole BJD thing!!!--and continuing to give to us literally, with gifts and dolpas... I've never experienced a company like that--so involved!
I didn't win anything--(and they were so sorry about everyone who didn't get called in the lottery!). But we all got the gift of having a Dolpa to gather with and see such wonderful dolls--and participate in, and make friends at... and buy lovely dolls at--or just view them... AND Volks always gives a "good-bye" gift at the end! Some people got sunglasses! Most got lovely pieces of doll jewelry.
Here's my Cyndy2 wearing the dark-metal necklace with multicolored gems that I was given.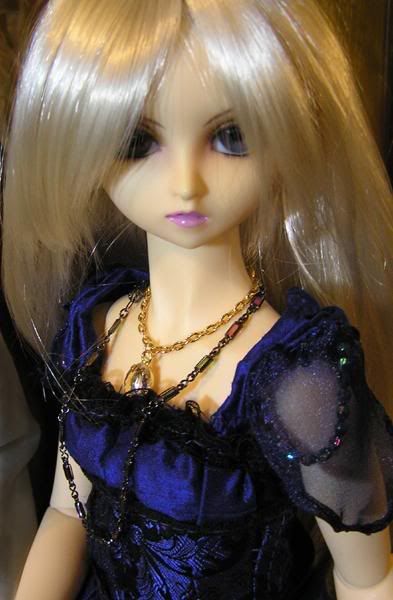 What a fantastic evening!
But, wait--it didn't end there! After resting a bit in
winter_elf
and Susan's room... we went down to the lobby to check out the meetups...
Down in the main lobby--a table-full of dolls!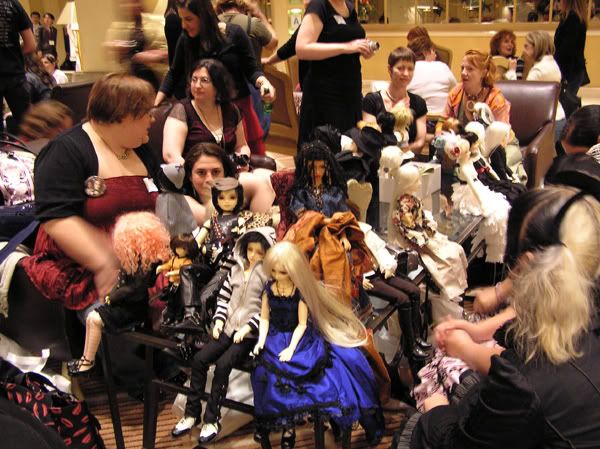 And owners sitting around them chatting--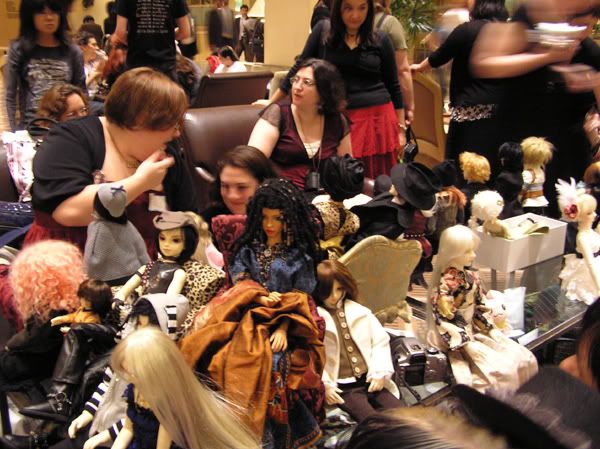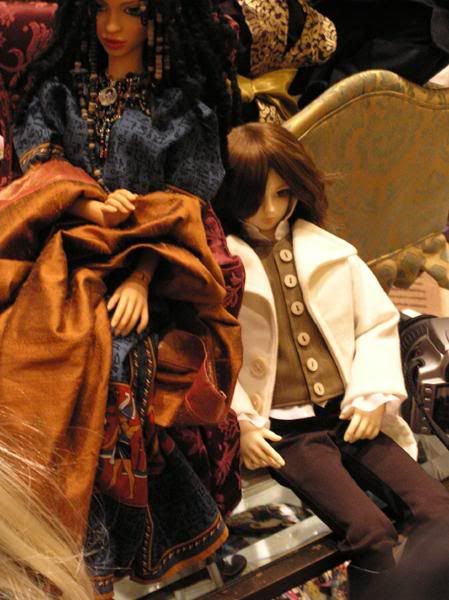 I love the outfits on these two girls--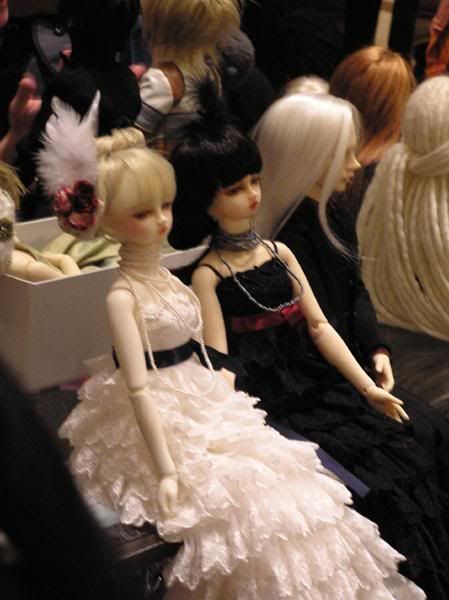 Anway--an early day in the morning! So time to get to bed!
--------------------
One-off photos and Costume contest coming up...!
--------------------
Photobucket dump of all Dollpa Photos here