Here's the last few photos from IMC...
The students are seriously amazing (even the ones who are just starting out, since all levels are able to come). There are Art Directors who are doing the class, as well as working artists and hobbyists and people who are doing something else but want to get into art, and art students. And there have already been success stories--students who have furthered their careers and who are getting into Spectrum and getting jobs. There are students who have started their own art workshops. And those who are just happy to hang out in an artistic atmosphere for a week.
(Old Man's War assignment)
There are two large painting studios, plus the digital room. I usually take the downstairs studio because I don't like taking the stairs to the upstairs room. Here's the downstairs studio where we set up our station and work on our pieces. Half of the instructors are set up along the wall to the left, where some are painting and some aren't...
Tarzan was a popular choice for the assignment--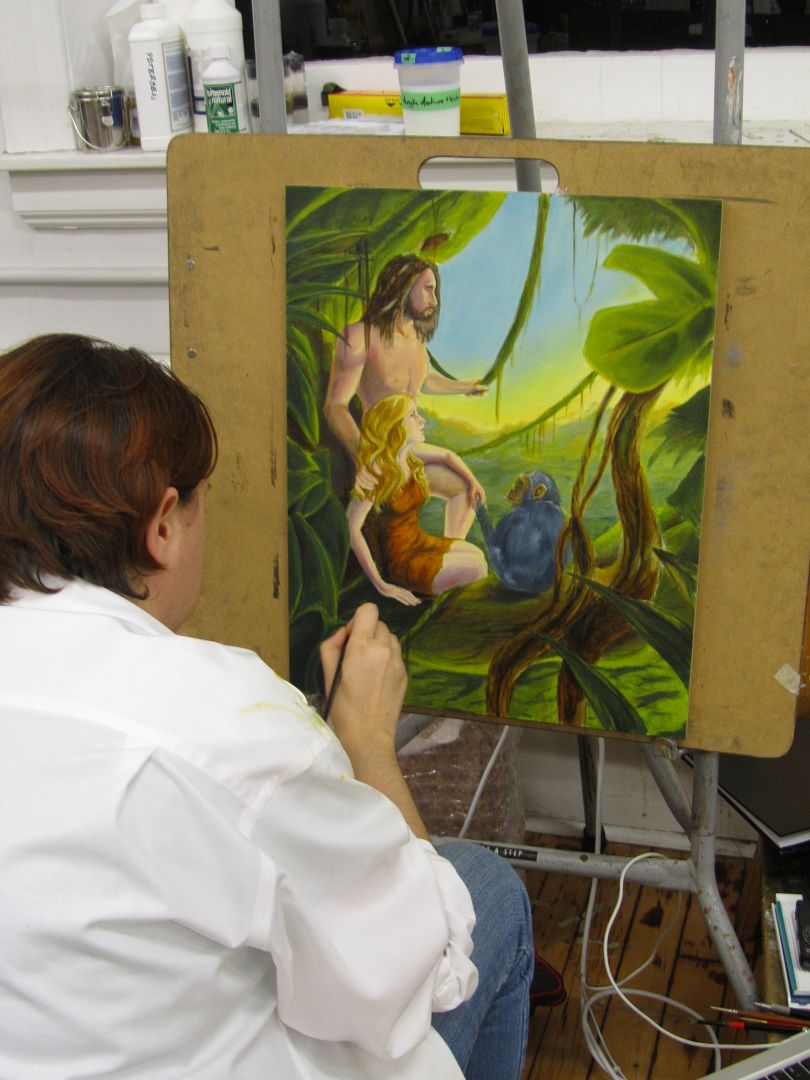 Old Man's War, SF assignment.
Here's Scott Fischer and Greg Manchess painting on someone's spaceship... I know this can freak some people out, but it's fun, really, to watch these guys in action. They aren't slopping stuff over someone's hard work, they are doing little things to something that hasn't been worked on... and the student is free to paint over it if they don't like it. I wouldn't mind having people paint on my painting in this way. I mean--these guys know what they are doing and can really help things out and give you ideas. And they DO ask first!
Hunger Games assignment--
Tristan and Isolde fantasy assignment--
Not all digital had to be in the digital room, this (amazing!) guy was downstairs--
Up Against the Wall! The Usual Suspects! No... some of the instructors at the Closing session... Great images of the week in the presentation. And gifts given out as thanks for help and for the instructors from the students.
Scott showing off his gift (they were hilarious! hand-made bags... his was the only pink one... well, the DOES do children's book illustration...!)
Afterwards--we clean up the studios. Have our paintings on display. And do lots of sketches in the sketchbooks. Everyone does. I got Boris to sketch in my book this year--
But it's lots of student/student sketching... which continues at the High Horse bar in Amherst...
And all night at the dorm...
No photos... I've turned in by then! Needed to pack and get up early for the shuttle in the morning!
But another IMC gone--but not forgotten.
Seriously... if you're into fantasy art at all, I highly recommend checking this out!